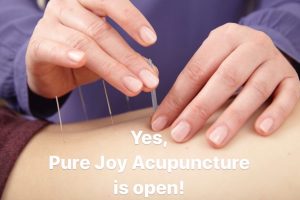 At the end of April, Governor Newsom declared acupuncturists to be essential workers. Unless Marin County places restrictions on acupuncturists, as they did in the original Shelter-in-Place order, or something changes at the state level, I will continue providing quality acupuncture care to support your health.
To continue to keep the clinic a safe space, I am undergoing regular COVID testing. I'm also getting computer screens installed in the treatment rooms so we can minimize in-person contact (you in the treatment room and me in the waiting area) by having the intake conversation via Zoom.  Learn more about Pure Joy Acupuncture's safety protocols.
If you're not yet ready to come into the office, I'm also offering alternative treatment options.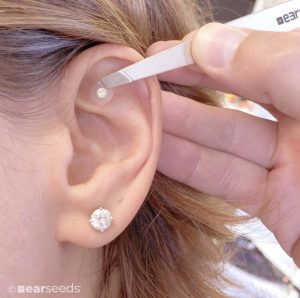 Car appointments allow us to chat and do tongue diagnosis through the window. With both of us wearing masks and my hands in clean medical gloves, we can roll down the window for pulse diagnosis. Then I can use sterilized tweezers and gloved hands to place magnet treatments in your left ear. You can wear them for a few days to activate acupuncture points that I would normally needle in the office.
Herbal recommendations are also available at car appointments.
Telemedicine visits are available as well. Chinese medicine offers many tools to restore you to health that do not require an office visit. Herbal medicine, tai qi and acupressure are all important aspects of Chinese medicine that can be practiced over Zoom.
You can book in-person acupuncture, car, and telemedicine appointments online.