Whether you're working from home, homeschooling your children, without a job, or you're an essential worker, Shelter-in-Place is taxing everyone I know. People are starting to crawl the walls, or in the case of someone in my apartment complex, climb up the trees right outside my living room window!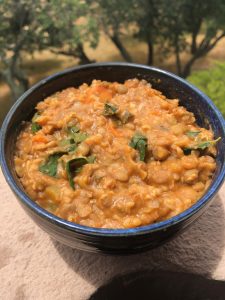 This Turkish lentil soup recipe is perfect to help you relax on a cozy, rainy day, like we're having in Marin County today.
Consuming legumes, like lentils, seeds, and seaweed is considered to replenish your body's reserves after extended periods of taxation and shock. Adding these to your diet will help your body slowly recover from the load that it has been carrying for almost two months.
Maybe your reserves were worn down from other life stresses and overwork prior to Shelter-in-Place. You may need some herbs and supplements to help build them back. Building your reserve energy back can help you sleep better, think better, and help bolster your body's immune defenses.
I am happy to recommend some extra nutritional support for you at your next acupuncture or telemedicine visit.  You can book an in-person visit starting Friday, May 15 or a telemedicine visit anytime.
Turkish Lentil Soup
Sundays at Moosewood Restaurant, by Moosewood Collective
Ingredients
1 cup dried lentils
5 cups of water, vegetable stock or bone broth
1 t salt
¼ cup olive oil
2 cups chopped onion (you can also substitute in leeks)
¼ t cayenne
2 bay leaves
2 cloves of garlic
½ cup raw bulgur wheat (you can substitute quinoa or rice for a gluten-free alternative)
¼ cup chopped parsley
2 cups chopped tomatoes
¼ cup tomato paste
Pinch of dried rosemary
2 cups of chopped, fresh spinach leaves
Salt & pepper
Rinse (or you can soak them if you have the time) the lentils. Bring them to a boil in the water/vegetable stock/bone broth. Reduce the heat and simmer covered for 40 minutes.
Meanwhile, heat the olive oil in a heavy soup pot. Sauté the onions (or leeks) until translucent. Add the garlic, cayenne, bay leaves and raw bulgur/quinoa/rice.  Stir the mixture on medium heat until the onions and grains are lightly browned.
Mix in the parsley and tomatoes. When the tomatoes begin to give up their juice, gently stir in the tomato paste.
Pour the lentils and the liquid into the soup pot with onions and grains. Simmer the soup for 15 minutes.  *I like to add in sliced carrots and celery at this point.
Add rosemary, salt, and pepper to taste. If the lentils and grain have absorbed too much liquid, add more stock/water/bone broth or tomato juice. Remove the bay leaves.
Just before serving, stir in the fresh spinach* and let it wilt in the hot soup. *Kale, chard or broccoli leaves will do if you don't have spinach.
Garnish with more fresh parsley. If you eat gluten, it goes nicely with crusty (Lucky Penny) bread.
Pro-tip: Make this soup ahead and let it sit overnight in the fridge to let the flavors marinate together. Enjoy!
Explore our helpful health info
The chicken noodle soup of Chinese medicine
Acupuncture for stress, anxiety and insomnia
Anxiety calming during the pandemic