Diet is an important aspect of maintaining your health in Chinese and Western medicine. Sometimes they have different ideas about how to accomplish that and often they overlap.
Chinese medicine emphasizes the importance of eating in season to support your body. This encompasses everything from eating the food that is currently being harvested in your area to the cooking methods you use to the type of spices you use.
Generally, it is recommended to cook foods for longer in the fall and winter using methods like roasting, braising and stews. In the spring, steaming, stir-frying and pickling are preferred cooking methods. Summertime is when Chinese medicine recommends eating raw foods such as salads.
In the winter and fall, using warming spices like ginger, clove, cinnamon, and fennel helps keep us warm from the inside out. In the spring and summer, sour flavors (think lemonade) keep us feeling refreshed, and pungent herbs like mint help our bodies cool down. You can use these flavors to make any recipe more seasonally appropriate.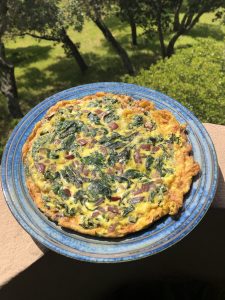 Today I am sharing a delicious recipe adapted from Alice Waters, The Art of Simple Food, to help you incorporate some winter greens in your diet and support your body during the winter months.
From a Chinese medicine perspective, it uses plants that are in season–chard and onions. You can also incorporate in kale or spinach with or instead of chard and use other winter leafy greens.
Onions and garlic are both considered to be warming spices, which is perfect for wintertime. Finally, the greens and onions are cooked twice, once alone and once with the egg mixture, making this an excellent wintertime recipe from a Chinese medicine perspective.
From a Western health viewpoint, this dish contains onions, and if you chose to incorporate it into the recipe, kale. Both of these foods contain a bioflavinoid called quercetin. Quercetin helps bolster the immune system, making this the perfect for winter, the heart of cold and flu season.
Chard Frittata
1 bunch of chard
1 medium onion
6 eggs
4 garlic cloves
Olive oil
A pinch of cayenne
Salt & pepper
1) Pre-heat oven on broil. (Ignore this step if you lack an oven-safe pan.)
2) Wash chard. Separate leaves from stems. Cut stems into 1/4 slices. Coarsely chop leaves. Peel and dice onion. Finely chop or grate garlic.
3) Heat 1T if olive oil in a 10" oven-safe pan. When oil is warm add the onion and let cook for 5 minutes.
4) Add chard stems and salt to onion and cook for an additional 4 minutes.
5) Add chard leaves and cook until tender.
6) While the onion and chard are cooking, crack 6 eggs into a large bowl. Add 2T of olive oil, chopped garlic, a pinch of cayenne, salt, pepper and whisk lightly.
7) Let the chard cool over for a few minutes. Gently squeeze out chard mixture with your hands, wringing out most of the liquid. Careful, the liquid coming out of the chard can be very hot!
8) Heat 2T of olive in 10" oven-safe pan while you ring out the chard.
9) Stir chard mixture into the beaten egg mixture and combine.
10) Pour mixture into 10" oven-safe pan once the olive oil is warm. Cook on the stovetop until the egg begins to set. You should be able to begin to lift the edges up when this happens.
11) If you are brave or do not have an oven-proof pan, flip the frittata. If you have an oven-proof pan, set it in the oven to broil for 2-5 minutes. Check often and remove from the oven when the top layer of egg begins to set.
Variations
Add a bunch of sorrel to chard leaves during the last minute of cooking.
Substitute broccoli rabe, kale, spinach, mustard greens, etc.
Serve on a pool of tomato sauce.
More info you can use today
Can you calm your COVID-19 anxiety?
Recommended COVID-19 supplements