Upping your intake of seasonal vegetables is a great way to improve your diet and your health!
There is no need to get stuck in a rut with salads, there are lots of fun ways to cook vegetables! In Chinese medicine, the idea is to cook your veggies, not eat them raw, and with each season, you change your cooking technique.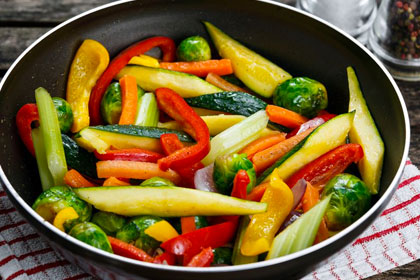 Right now we're in the middle of winter, so baked and slow-cooked veggies, starches (and meats if you eat them) are the name of the game.
Here is one of my favorite recipes for the winter from Insalata's Restaurant in San Anselmo.
You can simplify it a bit by substituting a dash of turmeric for the pinch of saffron (expensive!), and adding all of the veggies except the currants and chickpeas in at one time. You can also skip the peppers if they irritate your stomach and the cilantro unless you are a garnish fanatic.
To make this as a delicious vegan dish simply make couscous with water instead of chicken stalk and enjoy!
A great resource for more recipes is the Agricultural Institute of Marin website, which has a page dedicated to cooking with winter veggies! I highly recommend the mashed ginger yams.
(If you're in a hurry baking a sweet potato and then buttering with the ginger, shallot mixture is also tasty and fast alternative.)
Marin Organic has published a cookbook based around cooking with seasonal appropriate foods. You can purchase it at your local bookstore, online, or it is available the Thursday and Sunday morning Farmer's Markets at the Marin Civic Center.