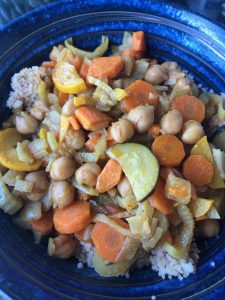 Upping your intake of seasonal vegetables is a great way to improve your diet and your health!
There's no need to get stuck in a rut with salads, there are lots of fun ways to cook vegetables. In Chinese medicine, the idea is to cook your veggies, not eat them raw, and you change your cooking technique with each season.
Right now we're in the middle of winter, so baked and slow-cooked veggies, starches (and meats if you eat them) are the name of the game.
Warming spices, like ginger, cinnamon, turmeric, and cumin help warm from the inside out.
One of my favorite winter recipes comes from Organic Marin: Recipes from Land to Table cookbook and Insalata's Restaurant.
Tunisian Vegetable Tagine
Serves 6 people as a main course
Spice Mixture:
1 teaspoon ground turmeric
1 pinch of saffron threads*
1 star anise pod
1/2 teaspoon ground ginger
1 teaspoon ground coriander
1 teaspoon ground cumin
1/2 teaspoon ground cinnamon
1 teaspoon freshly grated orange zest
1/8 teaspoon freshly ground pepper
1/2 teaspoon kosher salt
* You can simplify by substituting a dash of turmeric for the pinch of saffron (expensive!), and adding all veggies except the currants and chickpeas at one time. You can also skip the peppers if they irritate your stomach and the cilantro unless you are a garnish fanatic.

7 Tablespoons extra-virgin olive oil
1 yellow onion, thinly sliced
1 carrot, peeled and cut into 1-inch pieces
1 sweet potato, peeled and cut into 1-inch pieces
1 parsnip, peeled and cut into 1-inch pieces
1 fennel bulb, trimmed and cut into 1/8 inch pieces
1 red bell pepper, seeded, deribbed, and cut into 1-inch pieces
1 yellow bell pepper, seeded, deribbed, and cut into 1-inch pieces
2 zucchini, cut into 1 1/2 inch pieces
1 cup vegetable or chicken stock
1 (14 1/2 ounce) can peeled and chopped tomatoes with juices
1 cup canned chickpeas, drained
1/2 cup dried currants
Couscous
3 cups water, vegetable stock or chicken stock
3/4 teaspoon salt
1 1/2 cup couscous
2 Tablespoons olive oil
1/2 shelled pistachios
1 Tablespoon chopped fresh cilantro for garnish
Combine all the ingredients for the spice mixture in a small bowl and stir to blend. Heat a large Dutch oven or a heavy saute pan over medium heat. Add 3 Tablespoons of oil and saute the onion for about 7 minutes, or until soft.  Stir in all the spice mixture and saute for 2 minutes. Transfer the onion mixture to a bowl.
In the same pan, heat 2 Tablespoons of the oil over medium heat and saute the carrot, sweet potato, and parsnip for 10 to 12 minutes, until crisp-tender. Using a slotted spoon, transfer to the bowl with the onion. Reheat the pan, add 2 Tablespoons of oil, and saute the fennel and peppers for 5 minutes, until crisp-tender. Add zucchini and cook for 5 more minutes.
Return all vegetables and onion mixture to the pan. Add vegetable or chicken stock and the tomatoes and their juices and simmer for 15 minutes. Stir in the chickpeas and currants and simmer for 15 to 20 minutes, until the vegetables are tender. Taste and adjust seasoning.
Just before serving, make the couscous. Combine the vegetable stock, water, or chicken stock and salt in a medium saucepan and bring to a boil. Whisk in the couscous and olive oil. Turn off the heat and cover the pot with a lid. Let stand for 7 to 10 minutes. Fluff with a fork and fold in pistachios. Serve warm, with the vegetable tagine. Garnish the tagine with cilantro.
A great resource for more recipes is the Agricultural Institute of Marin website, which has a page dedicated to cooking with winter veggies!