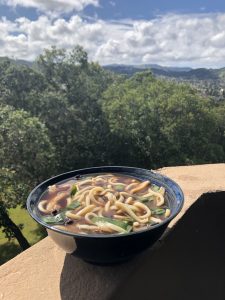 This recipe combines immune bolstering properties of mushrooms, miso, bone broth (vegan option given below as well), and green onion.  Shitake, maitake, and reishi mushrooms all contain polysaccharides called beta-glucans in their cell walls. Beta-glucans enhance immune cell function (macrophages and natural killer cells) to help your body fight off any marauding germs. Live miso acts as a probiotic to improve your digestion and your immune health.  Bone broth also benefits your digestive and immune systems with amino acids like glutamine.  In East Asian medicine, bone broth is also used to nourish depleted reserve energy, so if you are feeling run down, this recipe is great for you!  In addition, green onions are used to fight colds and flu in East Asian medicine.
This recipe serves 4-6 and takes ~45 minutes to prepare.
Easy Homemade Mushroom Miso Broth:
You can make a delicious, nourishing, and immune-boosting mushroom ramen broth using dried shitake mushrooms, and kombu seaweed, available locally at Gathering Thyme in downtown San Rafael.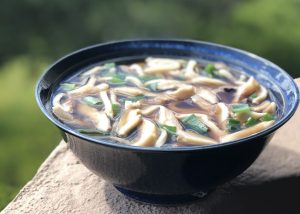 Put 1/2 oz of dried shiitake mushrooms and one or two strips of kombu in a large, heat-safe bowl.  Cover with 4 cups of hot water and let sit for 20 minutes. Strain out the mushrooms and seaweed and combine with equal parts chicken or beef bone broth. For a tasty vegan broth, double the recipe or add veggie broth.  Bring mixture to a boil and then reduce to just below a simmer- you don't want to kill the miso you are about to add!  Add 1 teaspoon of white miso (available at The Asian Market in central San Rafael) and whisk.
Saute Mushrooms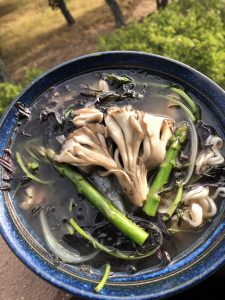 In a saute pan, heat sesame oil on low to medium heat.  To the warm pan, add 3 cloves of minced garlic, 1 sliced shallot, and season with salt and pepper.  Cook for 1-2 minutes, until shallots become translucent and the garlic aromatic.  Add 1/4-1/2 lbs of clean, sliced shitake mushrooms.  Feel free to combine with other mushrooms like maitake or queen oyster mushrooms, available locally at the Marin Farmers Market.  Saute mushrooms for 1-2 minutes, until lightly browned, adding more oil if needed. Add 2 teaspoons of tamari sauce and half a teaspoon of ginger juice, available in the international food aisle at United Market in San Rafael.  (You can also add half an inch of fresh, minced ginger with garlic at the beginning of the recipe.)  Cook for 2-3 more minutes.  Add mushrooms to broth and heat at just below a simmer for 3-5 minutes.
Locally Made and Gluten-Free Ramen Suggestions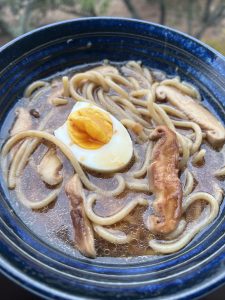 Cook your noodles according to the direction on the package.  Big Green Organic Food makes delicious gluten-free black rice and millet ramen noodles available at Scotty's Market in Terra Linda.  If your body processes gluten easily, Mill Valley Pasta Co makes a delicious ramen noodle that can be shipped to you.  If you're local, they occasionally make a fresh black garlic spaghetti that goes well in this recipe too.
Put It All Together and Enjoy!
Pour the broth and mushrooms over your noodles. Garnish with sliced green onions.  If you have them, nori flakes add a nice flavor as well! Add a 5-6 minute egg (soft-boiled) for protein if you like.  You can experiment with adding mustard greens, spinach, kale, or other greens.