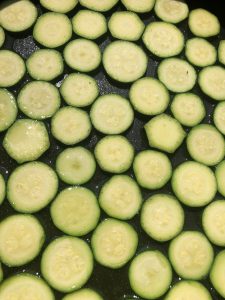 Eating the fruits and veggies that are in season provides your body with the resources it needs to stay healthy. Zucchini is one of summer's most prolific veggies (actually it's a fruit!) and can be cooked many different delicious ways.
Considered to be a cooling food in East Asian nutrition, zucchini is full of vitamins, minerals, and water to keep you hydrated in the heat of summer or warm early fall, for that matter. It also replenishes your reserve energy, which may be running low after revenge vacationing, getting your kids ready for school, or just generally worrying about the state of the world.
Eaten in excess, zucchini's cooling properties can damage the digestive fire, leading to loose stools and diarrhea. In this recipe, cinnamon's warming properties help balance the cooling nature of summer squash. The summer squash, beans, carrots, and potatoes all contribute to replenishing your deepest energy reserves, which are likely worn from pandemic fatigue.
Summer Veggie Couscous
1 cup of onions, coarsely chopped
2 teaspoons of olive oil
2 small turnips, cubed (substitute potatoes if preferred)
3 large carrots, diagonally sliced
2 cups chicken or veggie broth
1 eight-ounce can of whole tomatoes
1 cinnamon stick
1/2 teaspoon salt
1 large zucchini, halved lengthwise & sliced
2 small yellow squash, sliced
1 cup whole green beans
1 sixteen-ounce can of chick-peas drained
couscous or quinoa for 6 people
chopped cilantro to garnish (optional)
In a large skillet over medium heat, cook onions in olive oil until tender, but not browned (about 5 minutes). Add turnips, carrots, broth, tomatoes and their liquid, cinnamon and salt. Over high heat, bring to a boil. Then reduce heat to low, cover and simmer for 10 minutes. Add zucchini and remaining ingredients, except couscous and cilantro. Cook 5 to 7 minutes longer or until all vegetables are tender. Serve over couscous, garnished with cilantro.
This recipe appeared in the San Francisco Chronicle food section back in the 1990s. I regret not having the author's name for attribution.
Learn more
Health-restoring recipes
Managing your wellness