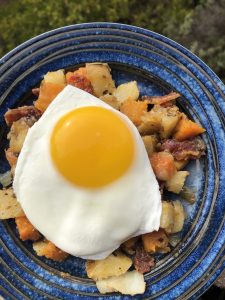 Good morning, root veggie hash!
Winter is the time to recharge your essence, and we could all use a depth charge after 2020. One way to build back your energy after it's been worn down by stress is through diet.
Root veggies, eggs, bone broth, beans, seeds, seafood, and slow-cooked dishes are wonderful ways to nourish and refuel your reserves. I love this nutritious comfort food—root hash topped with a fried or poached egg. You can easily modify it for your vegan or paleo preferences.
Meat-eaters
4 to 5 pieces of bacon – add to a dry, cold pan. Turn the heat on low, then slowly increase heat to medium. Remove bacon when crisp.
Everyone
1 medium yellow onion, chopped
1 cup cubed potato or sweet potato, for a paleo diet
1 cup peeled and cubed butternut squash (Some groceries, such as Trader Joe's have already done this for you!)
1/2 cup of chicken stock, veggie broth, light beer, or water
1 poached or fried egg, optional
1 teaspoon herbes de Provence
If you're using bacon, keep the heat on medium after you remove the bacon and add the onion. To omit bacon, add olive oil to the pan and heat on medium. Cook onion on medium until it begins to sweat.
Then add butternut squash and potato/sweet potato. Season with around 1 teaspoon of herbes de Provence, plus salt and pepper to taste. Saute for 3 to 5 minutes.
Add your liquid choice and cook on low-medium heat with a lid for 20 minutes.
If you desire to top your root hash with an egg, fry or poach an egg while the hash cooks.
Bon appetit!
Learn more  
Healing nutrition and recipes
Coping with stress