Chinese medicine is, at its core, a preventive medicine. Many Chinese medicine texts begin by giving guidelines on how to stay healthy before addressing how to treat disease.
Here are some ideas to help you stay healthy while socially distancing.
Supplements, herbs & acupuncture
If you want to enhance immunity and help calm your nervous system, I have the herbs and supplements in stock! I'm happy to prescribe them in conjunction with an immune-boosting acupuncture session or as an herbal consult either in person or virtually.
Please know that I am monitoring the situation closely, and disinfecting the office and washing my hand meticulously. I am monitoring the California state and Marin public health recommendations and will continue to offer health care services in accordance with local and statewide regulations. If I do need to close due to COVID-19 and you have an appointment scheduled, I will call you immediately.
Two super-yummy recipes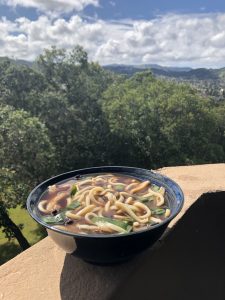 For a doubly nourishing boost to your immune system, order Mushroom Alliance blend from Gathering Thyme online and add it to bone broth.  You can make a savory mushroom ramen using 2 teaspoons of Mushroom Alliance blend, 20 ounces of Nona Lim's Shitake Beef Bone Broth (available online through Sunbasket),  7.34 ounces of ramen noodles, shitake mushrooms to taste, and green onions.  Follow the cooking instructions given on the package of the ramen.
If you have access to dried (shiitake) mushrooms, you can make your own broth.  Put 1/2 oz of dried shiitake mushrooms in a large bowl and cover with 4 cups of hot water and let sit for 20 minutes.  Strain out the mushrooms and combine with equal parts beef bone broth or double the recipe for a tasty vegan broth.
Heat broth to almost boiling and then add chopped fresh mushrooms. Cook for 5 minutes, until the mushrooms are soft. Pour the broth with the mushrooms over the noodles. Add  2 teaspoons of Mushroom Alliance and stir.  Then add sliced green onions (used to fight cases of colds and flu in Chinese medicine) to taste.  Add a soft-boiled egg for protein if you like.
You can also make a decadent vegan immune-boosting, spirit-calming beverage from Mushroom Alliance. Chelsea Hutchinson, who makes this amazing Cacao Shroom Latte at Bol Superfood Cafe in Mill Valley, was kind enough to share this recipe with us.
Take 1 teaspoon of Mushroom Alliance, blend with 1 tablespoon powdered raw organic cacao, 1 teaspoon maca powder, 1/2 teaspoon of cinnamon powder, and 12 oz. of warm plant milk. If you have a frother, use it to blend. If not, a good old-fashioned spoon should do the trick!
When you're comfortable being out in the world again, I highly recommend you visit her for the real thing, which she makes with homemade coconut cashew date supermylk. It's wildly delicious!
Practice social distance and support local businesses
Trying to minimize your exposure to other humans but still support local businesses? Order through their websites! Many businesses, like Viva Diva, are offering free shipping right now.
Getting your groceries delivered? United Markets offers a grocery delivery service through their website. Mollie Stone and Mill Valley Market both deliver through Instacart.
Wash your hands
Yep, scrub those hands. Wash them a lot. First thing when you get home, after you use the restroom, before and after eating, and after touching any public spaces. Make sure you scrub all the areas shown in the graphic
Skin starting to crack from all the scrubbing? Make sure that you're using a soap without sodium laurel sulfate (SLS), which can act as an irritant.
Dr. Bronner's and Everyone are sodium laurel sulfate-free soap brands that you can have Target ship to you.
For dry, over-washed hands, apply lotion by day and again at bedtime. If your hands are too raw for mere lotion, try goldenseal and myrrh salve before bed to help them heal overnight.


Learn more
Simple ways to calm anxiety