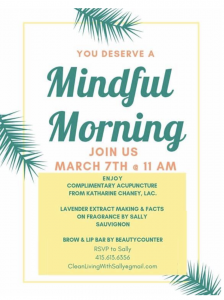 Our first Mindful Morning was such a success that Sally Sauvignon of Beautycounter and I are excited to bring it back.
Join us Thursday, March 7 at 11AM at a convenient San Rafael location (we'll let you know the address when you RSVP).
Let me help bring some balance to your day with help from my complimentary mini-acupuncture session.
And find out what chemicals can lurk in the "fragrance" ingredient of personal care products, as Sally shares her insights. She'll also teach you to make your own lavender extract.
Then, before you head off to lunch, browse the lovely lip and brow bar for natural, safe beauty products.
Space is limited at this intimate event, so call Sally now to reserve your spot: (415) 613-6356.